Loyalty Program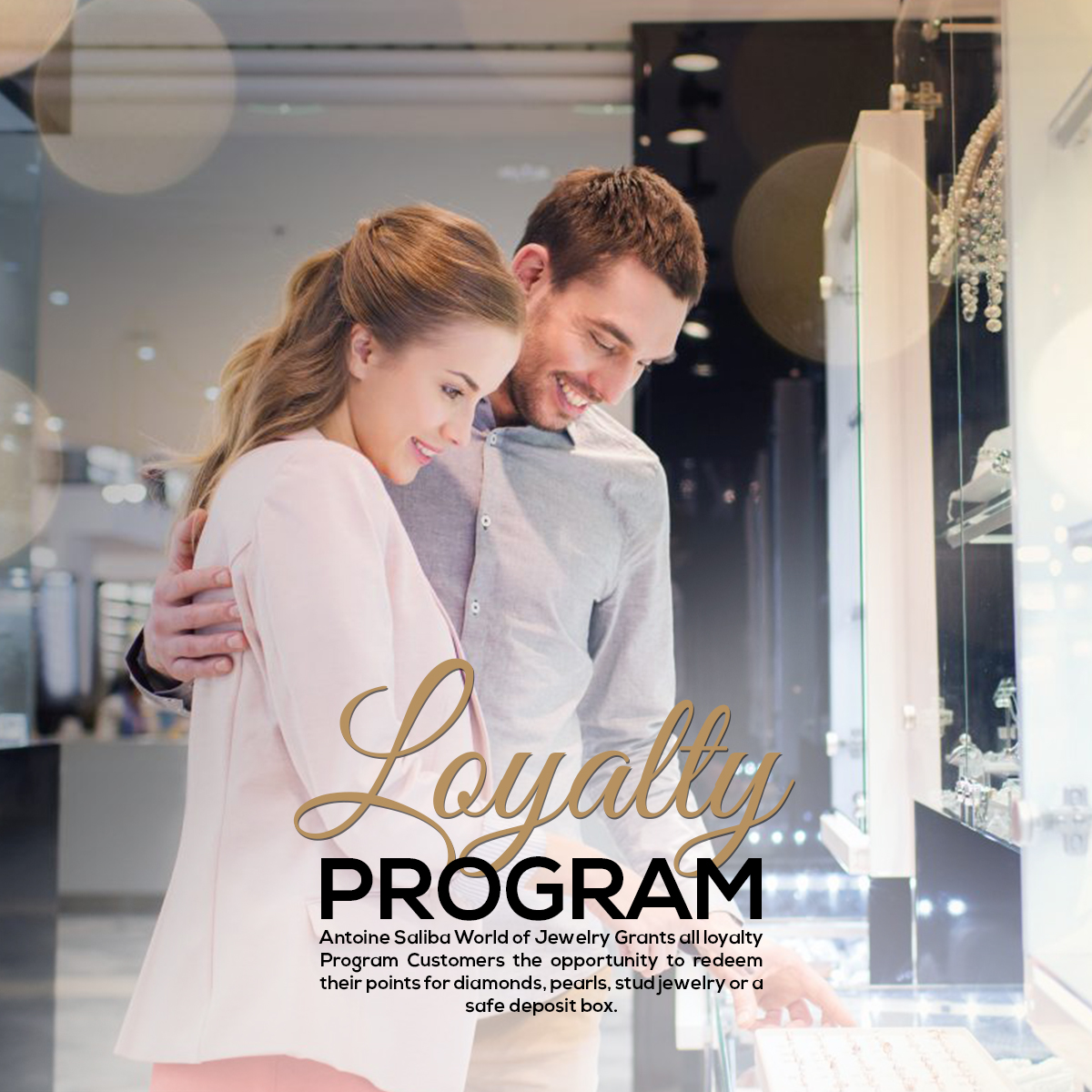 Antoine Saliba World of Jewelry Grants all Loyalty Program Customers the opportunity
to redeem their points for diamonds, pearls, stud jewelry or a safe deposit box.
For every $50 purchased, you will earn 1 point.
Collect 60 points and choose your valuable gift of diamonds, pearls or stud jewelry
valued at 200$ or win a safe deposit box.
*Example:
When purchasing an item valued at 100 USD, you will earn 2 points.
When purchasing an item valued at 80 USD, you will earn 1 point.

Loyalty points will be earned per item value and not per invoice total;
meaning, you will earn points for every item purchased individually;
you will not earn points for the total amount of your invoice.
*Cumulative points:
Cumulative points are the total loyalty points earned for all purchases regardless if redeemed or expired.

Collect 500 cumulative points within 3 years and upgrade your account from Silver to Gold for more benefits.
Gold Membership
An Antoine Saliba World of Jewelry Gold Member, you are granted these benefits:

- Additional 5% discount on diamond jewelry, watches & pearls.
- All year FREE JEWELRY CARE up to 5 items per month & 15% discount on accessories
& gold used during the repairs.
- Additional 6 month warranty on watches & diamond jewelry.
- Additional 15 days period to exchange any item.
- Automatic subscription to our *First To know List*
- Private invitations to exclusive promotions and events.
You can earn points with every item purchase except:
-Sales & Promotions
-Wholesale Purchasing
-Gold Coins ( Lira, Ounce)
-Bank Installment Payment
-Wedding List
Loyalty Points Expiry Terms & Conditions:
Earned points will automatically expire after 2 years.
Redeemed points will be deducted starting from the oldest points.
*Example:
If you have earned 500 points in January 2019, 300 points in February 2019 & 200 points in March 2019; then in January 2021, the points earned in January 2019 will be deducted first. The rest of the points will be deducted consecutively.
This account is personal and only can the account holder benefit from its privileges.
We advise you to frequently check your expiry dates via
Antoine Saliba World of Jewelry Application
available on appstore and playstore to avoid losing valuable points.
Conditions Apply.